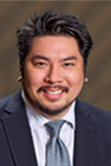 Think You're HIPAA Compliant? You May Not Be - and Even If You Are, It May Not Be Enough to Protect Patient Data
By Kevin Villanueva
Partner, Moss Adams
By Brandon Gunter
As the number of cyberattacks on health care organizations continues to increase, understanding how to secure sensitive data is paramount. In 2017, for example, at least 342 providers were impacted by an attack, according to the
HIPAA Journal
. Implementing best practices and employing the highest standards for cybersecurity protection is simply no longer a luxury; it's a necessity, because health care organizations are now required by law to become proactive in the application of cybersecurity controls and the prevention of data breaches.
Read article

Community Leaders, and Telemedicine, Can Help Narrow the Gap in Minority Men's Health
By Dr. Charles Modlin
,
Kidney Transplant Surgeon, Urologist
Founder and Director, Cleveland Clinic's Minority Men's Health Center
The life expectancy for African American men is more than seven years less than for white men, and they have the highest rates of lung, prostate and colon cancers of any population in the world. Stroke kills 180 percent more black men than it does whites, and Hispanic men are twice as likely as white men to have liver cancer. From diabetes to high pressure to liver disease, the numbers are similarly sobering.
Read article

As Proton Centers Struggle, A Sign Of A Health Care Bubble?
By Jay Hancock
Senior Correspondent, Kaiser Health News
For years, health systems rushed enthusiastically into expensive medical technologies such as proton beam centers, robotic surgery devices and laser scalpels — potential cash cows in the one economic sector that was reliably growing. Developers got easy financing to purchase the latest multimillion-dollar machine, confident of generous reimbursement. There are now 27 proton beam units in the U.S., up from about half a dozen a decade ago. More than 20 more are either under construction or in development.
Read article

Puget Sound First Quarter 2018 Real Estate Wrap-Up
By Paul Carr, CCIM/MBA
Senior Vice President, CBRE
Amazon, Berkshire Hathaway, JPMorgan Chase, Walmart—big names in other sectors are making big moves into the healthcare arena. The effect on healthcare real estate will not be felt for a while. However, it is certainly beneficial for the US economy to have a healthier, more productive population and maybe it's time for private companies to help make this happen as national governmental support pulls back.
Read article