Director of Engineering, Ellensburg, WA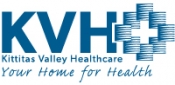 View the Website
Kittitas Valley Healthcare
Director
Ellensburg, WA
January 26, 2017
Director of Engineering
Ellensburg, WA * Full-time
Company Description
Who is KVH...
Our family of Clinics are the primary entry point into the Kittitas Valley Healthcare system of services. With a critical access hospital named in the Top 50 nationwide, and a variety of specialty clinics and services, we know that even you would be proud to call KVH your home for health. KVH is an integrated healthcare delivery system that includes 24-hour emergency care, inpatient and out patient hospital services through KVH Hospital. Clinics include family medicine, internal medicine, orthopedics, general surgery, women's health, and urgent care. Specialty services provide home health and hospice, physical, speech and occupational therapies and a geriatric nurse practitioner program.
What you can expect...
Work-life balance is important to us. We value your mental wellbeing as much as your skills to perform the job and therefore offer a competitive PTO plan, benefits package as well as a 7% employer contribution pension plan. When you're away from the office, we want you to be able to enjoy this beautiful setting. Commute to work by mountain bike. Hike in the wilderness on your day off. Backcountry ski from your door, or from lifts within an hour's drive.
Job Description
What to expect as the Director of Engineering...
Directs the overall hospital operations of plant operations, maintenance, construction, and owned/leased facilities. Responsible for the safe and efficient operations of institute service systems in conformity with fire, safety, sanitary and medical requirements. Supervises maintenance staff and is responsible for facility security.
Qualifications
What KVH expects from you...
Required Qualifications
Bachelor of Engineering degree or equivalent combination of education and experience
Six years' experience in plant operations and/or the building trades in a hospital environment, two of which must be in a supervisory capacity.
Preferred Qualifications
Certified Healthcare Facilities Manager-AHA
Job Knowledge, Skills and Abilities
Demonstrated skills in collaboration, teamwork and problem-solving to achieve goals.
Demonstrated skills in verbal communication and listening.
Ability to coordinate multiple projects at one time.
Ability to independently analyze situations, recognize problems, search out pertinent facts, reach conclusions, make recommendations and implement solutions.
Special perception is necessary to read and interpret blueprints and specifications for installation and maintenance of equipment and apparatus.
Working knowledge of utilities systems to include electrical, refrigeration, air conditioning, heating as well as plumbing, masonry, carpentry, painting and grounds maintenance.
Additional Information
Wage Range D.O.E.
FTE - 1.0
See above
See above
See above