Children and Family Mental Health Outpatient Providers, Jackson County, OR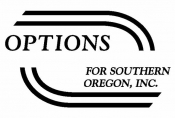 View the Website
Options for Southern Oregon
Behavioral Health Professional
Jackson County, OR
January 26, 2017
Options for Southern Oregon
Now Hiring for Mental Health Service Delivery in Jackson County
We offer competitive compensation and robust benefits including: Family Medical, Life, Long Term Disability, Employee Dental & Vision Insurance; Retirement Plan with 6% match - and more. Generous Paid Time Off.
We have FULL-TIME positions in Jackson County in
Children and Family Outpatient Programs
For more detailed information and to apply online visit www.optionsonline.org and click on Jobs. EOE.
See above
See above
See above