Chief Financial Officer, Salem, OR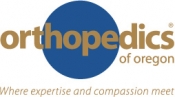 View the Website
Hope Orthopedics of Oregon
Chief Financial Officer
Salem, OR
February 8, 2017
We seek an energetic, dynamic CFO to lead us through the rapidly changing world of healthcare reimbursement. The CFO oversees fiscal and fiduciary responsibilities for our organization in conjunction with the executive leadership team and the Board of Directors. Partner with our CEO as a strategic team to help grow our practice, recognize opportunities for organizational effectiveness & efficiencies, and drive value.
Could this be you?
The people of Hope Orthopedics are passionate about providing patient centered service excellence and delivering world class musculoskeletal care.
Hope Orthopedics of Oregon, a patient-centered orthopedic and neurosurgery practice with 15 surgeons, 13 physician assistants/nurse practitioners, and over 150 support staff members offers full spectrum of orthopedic and neurological care in our downtown location. We also offer X-Ray, MRI, a cast and brace department, on-site lab and EKG, as well as physical and hand therapy. Our employees enjoy a competitive benefits package that includes health, dental, vision, disability and retirement.
Education, Experience Certifications
Education:
CPA and/or Master's degree in related field
Experience:
Minimum of five years leadership experience in healthcare financial management; prior orthopedic experience highly preferred
Must possess thorough knowledge and extensive experience in accounting, budgeting, and physician practice financial management
Familiarity with physician/orthopedic practice compensation models
Experience in growing and developing ancillary revenue streams, contract optimization, and navigating strategic alliances and partnerships with various entities
Familiarity with payroll and HR associated benefits: health insurance, cash balance pension plan
Proficiency in navigating the electronic health records system as it pertains to finance
Familiarity with MACRA, MIPS, CJR and other alternative payment models
Prior supervisory and management of staff and medical finance department
To Apply
Submit resume and cover letter to Careers@HopeOrthopedics.com or fax (503)316-3780.
Marcelle Greenwood, Human Resources Director
See above
See above
See above