Talent Acquisition Specialist, Shaker Heights, OH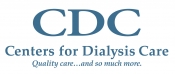 View the Website
Centers for Dialysis Care
Professional
Shaker Heights, OH
February 14, 2017
The Centers for Dialysis Care is an unparalleled presence in Northeast Ohio's dialysis community. We are currently looking for a Talent Acquisition Specialist. This is an opportunity to join our dynamic team and work in a growing medical field while putting your creative and innovative talent acquisition skills to use.
Qualifications:
BS in Human Resources or related field
3-5 years in a talent acquisition capacity in a health care setting required
Familiarity with credentialing staff for a dialysis acute care program preferred
Knowledge of JACHO guidelines preferred
Familiarity with employee on-boarding processes and procedures
Excellent verbal and communication skills
Solid knowledge of employment and diversity laws
Proven track record in a fast paced, multiple priority environment
Proficiency in HRIS and Applicant Tracking Systems required
Proficiency in Microsoft Applications (Excel, Power Point, and Word) required
Responsibilities:
Under the direction of the Chief Human Resources Officer, the Talent Acquisition Specialist will lead the recruitment and retention efforts. The incumbent will be responsible for attending job fairs, advertising, screening applicants, candidate search via internet and other creative venues, developing comprehensive talent acquisition strategies; as well as, having the ability to forecast the gap between talent needs and the identifiable supply of talent.
This role requires the ability to manage multiple tasks and priorities, familiarity with advanced cutting edge recruitment tactics and an ability to consistently assess and analyze outcomes.
We offer an attractive total rewards package which includes a competitive salary and a generous benefits package.
See above
See above
See above