Registered Nurse, Warrensville Heights, OH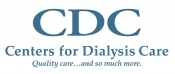 View the Website
Centers for Dialysis Care
Nurse
Warrensville Heights, OH
February 14, 2017
REGISTERED NURSE
Department: Warrs. Nurse
Schedule: Full Time
Shift: Rotating
Hours:
Job Details:
Qualifications
RN, Ohio Licensure required.
1 year of med/surg. experience required.
Excellent clinical and leadership skills with a commitment to participation in a patient focused environment.
Reliable transportation required.
Dialysis experience preferred.
Job Responsibilites
Function as a patient advocate supervising direct patient care utilizing a team approach.
Ability to communicate effectively pertinent clinical information to team.
Team spirit and commitment to patient focused care.
Training
Twelve weeks paid formal training program.
First six weeks - classroom and on-site clinical instruction
Second six weeks - onsite clinical training with preceptor.
Successful completion of training program dependent on maintaing an 78% average on exams and passing clinical competencies.
Attendance is mandatory.
See above
See above
See above