Occupational Therapist (OT) - Home Health Services, Ellensburg, WA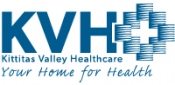 View the Website
Kittitas Valley Healthcare
Occupational Therapist
Ellensburg, WA
April 4, 2017
Occupational Therapist (OT) - Home Health Services
Ellensburg, WA * Full-time
Company Description
Who is KVH...
Our Family Medicine Clinics are the primary entry point into the Kittitas Valley Healthcare system of services. With a critical access hospital named in the Top 50 nationwide, and a variety of specialty clinics and services, we know that even you would be proud to call KVH your home for health. KVH is an integrated healthcare delivery system that includes 24-hour emergency care, inpatient, and outpatient hospital services through KVH Hospital. Clinics include family medicine, internal medicine, orthopedics, general surgery, women's health, and urgent care. Specialty services provide home health and hospice, physical, speech and occupational therapies and a geriatric nurse practitioner program.
Job Description
What to expect as a Home Health Occupational Therapist...
Home Health care is a vital point of recovery for patients moving from in-patient to the out-patient setting. As the Home Health Occupational Therapist you will be responsible for assessing patients for both Home Health Care and Hospice Care, development of a plan of care, and coordinating with patient care staff and the patient's physician. The Occupational Therapist will also be responsible for maintaining open communication with the patient's family.
Qualifications
What KVH expects from you...
REQUIRED QUALIFICATIONS
Graduate of an accredited occupational therapy program & currently licensed in the State of Washington
Two years of experience in a health care setting
Valid WA State Driver's License
Access to reliable transportation and valid Automobile Insurance
PREFERRED QUALIFICATIONS
Experience with geriatrics, Medicare and home health.
JOB KNOWLEDGE, SKILLS & ABILITIES
Demonstrated skills in collaboration, teamwork and problem-solving to achieve goals
Demonstrated skills in verbal communication and listening
Demonstrated skills in providing excellent service to customers
Ability to apply principles of logical and scientific thinking to define problems, collect data and draw valid conclusions
Exceptional use of judgment and initiative
Ability to work well independently within a strong team environment
Additional Information
Wage Range $32.70 - $43.64
See above
See above
See above