Clinic Director (Rural Health Clinic), John Day, OR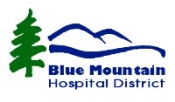 View the Website
Blue Mountain Hospital District
Director
John Day, OR
April 21, 2018
Clinic Director (Rural Health Clinic) Full Time
City, State: John Day, Oregon
Let the adventure begin in Northeastern Oregon surrounded by beautiful mountain ranges, rural ranching community and lots of outdoor activities.
BLUE MOUNTAIN HOSPITAL DISTRICT is accepting applications for CLINIC DIRECTOR (RURAL HEALTH CLINIC) Competitive wage and benefits package.
JOB SUMMARY:
The SWCC Clinic Director will perform duties as assigned for a Clinic in accordance with Oregon Board of Administrative Rules and Regulations. Responsible for the day to day running of the Clinic including planning, organizing and directing the overall operations of Reception, Registration, Referral Authorizations, Medical and Nursing Assistants, Clinic Providers, Residency/Students and SWCC Patient Care Services. Ensures the compliance with patient care quality standards as it relates to the care provided to all age groups ranging from neonate to geriatric. Regularly monitors the competency of all clerical, nursing and clinical personnel in areas of responsibility. Assists in formulating the budget and maintains efficient and effective departmental operations while required compliance with all state, federal, and local regulations, laws, standards and protocols. Clinic Director provides community involvement, represents the hospital district and assists with marketing efforts such as Grant County Health Fair, Families First Teen Fair, Walk with a Doc, etc., Participates in performance improvement and continuous quality improvement (CQI) activities.
Effectively and consistently communicates with BMHD personnel and encourages interactive departmental meetings and discussions.
Represents the organization in a positive and professional manner at all times.
Establish & maintain solid work relationships through communication, cooperation, and positive interaction with all employees, staff, patients and physicians.
SUPERVISORY RESPONSIBILITIES: Clerical, Medical and Nursing Assistants, Clinic Providers, and Residency/Students.
REPORTS TO: Chief Executive Officer (CEO)
EDUCATION REQUIREMENTS
Required:
Bachelor's Degree in Nursing or healthcare related field or a combination of Education and Experience in Healthcare Administration, Business Administration, Community or Public Health.
Must have at least 3 years in leadership position in a hospital or medical setting.
Preferred:
Master's degree in Nursing or healthcare related field (i.e. Community or Public Health, Healthcare Administration)
CERTIFICATION/LICENSURE REQUIREMENTS:
Basic Life Support (BLS) certified by American Heart Association (AHA). Must obtain within 60 days of hire.
Preferred: Oregon Registered Nurse (RN) licensure in good standing.
LANGUAGE SKILLS:
Able to communicate effectively in English, both verbally and in writing.
Additional languages preferred.
This job description reflects managements' assignment of essential functions; it does not prescribe the tasks that may be assigned.
Additional Information
Position Type : Full Time
Shift : Day
Contact Information
Recruitment Support - General Inquiries Only
Human Resources
170 Ford Street
John Day, OR 97845
Email: RecruitmentSupport@bluemountainhospital.org
Phone: 541-575-1311 #2964
See above
See above
See above